Shopping Cart
Your Cart is Empty
There was an error with PayPal
Click here to try again
Thank you for your business!
You should be receiving an order confirmation from Paypal shortly.
Exit Shopping Cart
Orchard Electrical Services
| | |
| --- | --- |
| Posted on January 30, 2013 at 5:53 AM | |
I was asked a couple of weeks ago to go and look at a house which the owners rent out. The fuse board was replaced late last year by someone employed by the management company handling the tenancy. The owners told me that they weren't happy with where the board had been sited, and would I take a look and give them my opinion?
I met the client at the house and was shown the new consumer unit; I wasn't sure whether to laugh or cry!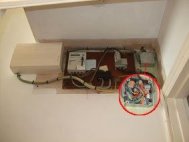 As you can see, the board had been fixed extending beyond the edge of the ceiling, making it impossible to bring any cables into that side of the board. The installer had worked around this "small" problem by bringing extender cables out of the side and connecting them to the fixed wiring inside the steel box on the left.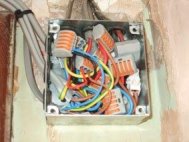 Quite apart from the whole thing being really unsightly, there were 12 connections - that's 24 individual wires - inside a box only four inches square. To say it was crowded in there is an understatement! That's far too many wires for safety, crammed into a small space, leaving aside the facts that more than one connection was loose and the metal box hadn't been connected to earth.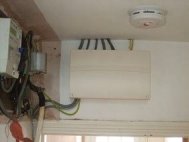 I advised the client that the best option would be to reposition the consumer unit on the adjacent wall and this would almost certainly involve replacing it, given the holes which had been cut in it. I was given the go-ahead, and the finished result is shown here. Much tidier, and a great deal safer!
To be honest, I can't really understand why the last guy did it that way in the first place. Not only would it have been obvious from the outset that it would be a mess, not to mention the safety concerns, but positioning the new board where he did must have made it a far more difficult job.

Categories: Horror Stories
/